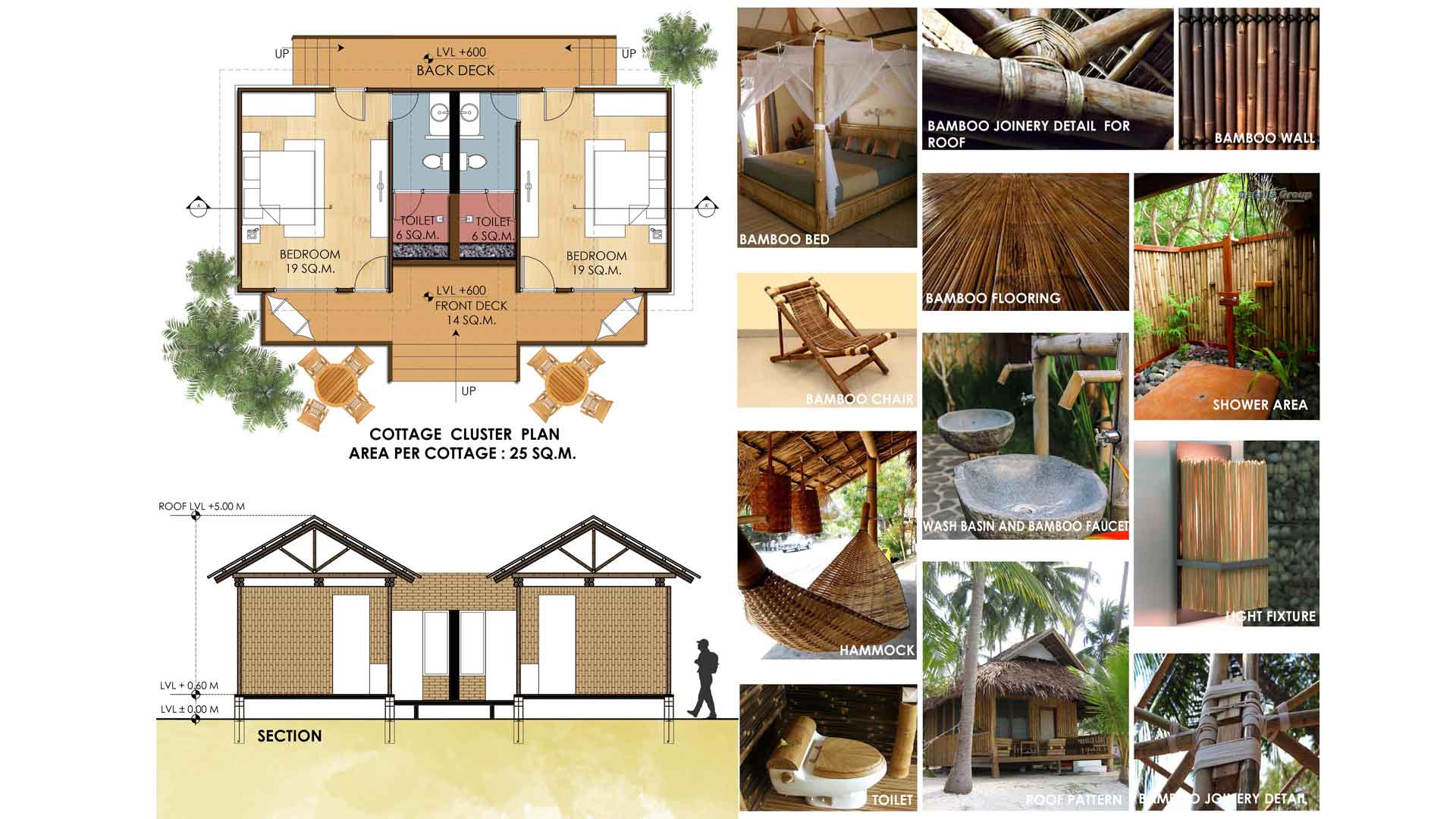 Short Stay Accomodation Cottages Plan Options
Bamboo Cottage Cluster Details
Design intent was to create a framework for responsible "Eco-tourism" with Nature Conservation and Conservation awareness. The 85,264 sq.m narrow site along the Tejaswini River Mouth is blessed with abundance of natural beauty along its 560 m long beach front. Flanked by Rockbed Bio Shield on the Arabian Sea side and Casuarina trees, the site is located in an eco-sensitive zone which is part of Coastal Regulated Zone, only single-storied structures of purely temporary in nature shall be built, the construction material used in the making of such structures should comprise of eco-friendly materials only, such as Bamboo, wood, canvas for accommodation in the form of shelters, pavilions, huts, tents and cottages. The overall footprint of the constructed buildings is kept to a minimum of 5% of the total site area. Project was tagged as "Bamboo-Beaches-Backwaters" by the Developer.
With the aim to preserve the Fragile Eco-system by creating a Sea-Turtle nesting Zone free of Plastic & Litter, with Temporary Construction using local raw-materials and vernacular architecture. We have tried to promote Adventure Tourism, Non-conventional Energy, Responsible Waste & Garbage Disposal, Recycling of Organic Waste & Use of Compost and local Community Participation to make this project successful.
The first phase of the project included Tree Plantations as Conservation initiates for Land, Sea & Wildlife. Reviving the coastal area and sea-wall with Mangrove plantation that will be overseen and monitored by a Marine Biologist for creating an efficient eco-system and reducing coastal erosion. Conservation, Eco-restoration and rejuvenation of existing pond. Creating Coral Farm and Sea Turtle Nesting Zone to help facilitate safe nesting, breeding and conservation of sea turtles.
The second phase included construction of Entrance Pavilions, Restaurant, Cafe, Facilities for Visitors, Covered Walkways, Short-stay Accomodations, SPA & Wellness Center, Kids Play Area, Water & Adventure Sports and Relaxing areas. Designed and built using eco-friendly materials sourced locally. Natural eco-friendly building materials like bamboo, stone, laterite blocks, thatched/ canvased roofs will be preferred for constructing all the pavilions, shelters, towers and covered areas. Designed with geological features such as rock outcrops will enhance the sense of place. For example, integrating rocks into the design of a timber deck or boardwalk brings the visitor in direct contact with the resource and the uniqueness of the place.
| | |
| --- | --- |
| Year | 2018 |
| Location | Azithala, Kasaragod, Kerala |
| Project Type | Master planning |
| Design Team Collaborations | BURO Development Architecture Planning, Ahmedabad & Ascension Designs, Jaipur |
Please follow and like us: